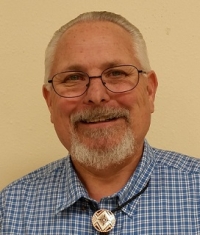 Chet Miles has been calling in the Austin area since 1981, and has been the Wheel-N-Deals Club Caller for over 20 years. He and his wife, Wendy, reside in Driftwood, and are the dedicated parents of two daughters and a son, each of whom has accompanied Chet on many occasions when he has come to call, and can square dance with the best of 'em.
This is yet another year for Chet to charm us all with his wit and, at the same time, challenge us to have a much fun as possible on the dance floor.
In 2021 we welcomed Gary Bible to join Chet as our 2nd club caller. We are so fortunate to have these two friends come together at our club!
Chet will typically call at our club the first and third Tuesdays each month until square dance lessons begin, typically in the fall. For more club information, further browse our website, www.wheel-n-deals.org.